Flashmobs & Pranks
Carotene Craziness- A Social Experiment
The Boston Symphony of Spontaneity (emphasis on the "phony" part) proudly presents the 5th Annual Paper Hats Marching Band Parade!
Of course, this is only our first year- but no one else has to know that. A little before 1pm on the first truly gorgeous Saturday of the year improveratti met at the Soldiers & Sailors Memorial in Boston Common to make paper hats and receive further instructions. Like all our stunts we did not advise anyone in advance what we were going to do.
It was a bit windy so many taped the hats to their faces. Some people even created bonnets or added chin straps to their hats.
Super hot hat created using many BostonSOS.org logos: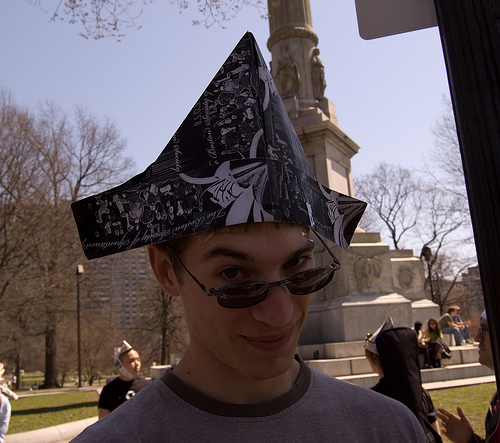 We lined up in two shoulder-to-shoulder lines and assigned people to a type of classic marching band instrument. Some played the flute, some played the trombone, some the snares, and others the trumpet- but everyone's instrument was equally important to the musical ensemble...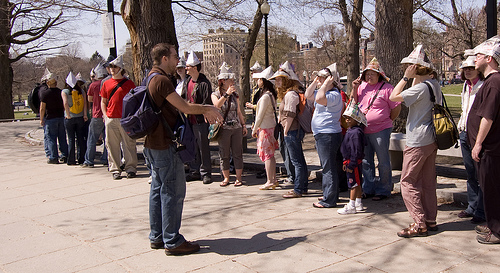 ...after all they all played the same number of notes- ZERO. All the instruments were imaginary! Well, everyone's except one BostonSOS member who JUST HAPPENED to have a huge pair of cymbals in his backpack as he had band practice that day. What luck!
Our marching band leaders towed a red wagon equipped with a speaker system to pipe out classical marching band tunes while we marched in time to his Scepter of Marchyness. We started our military style march at the Carty Parade Ground- an area used since 1852 for military displays and public celebrations.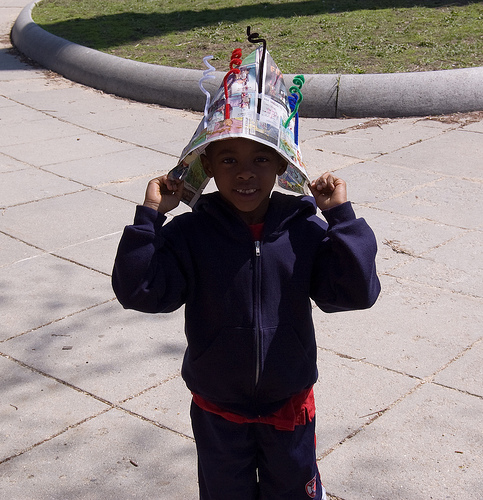 Crossing the street from the Carty Parade Ground we passed one of the many tour buses around the Common- this one lightly honked it's horn to the beat of our march. Arriving at the other end of the street in the Public Garden we were met with smiles, laughs, cheers, and clapping.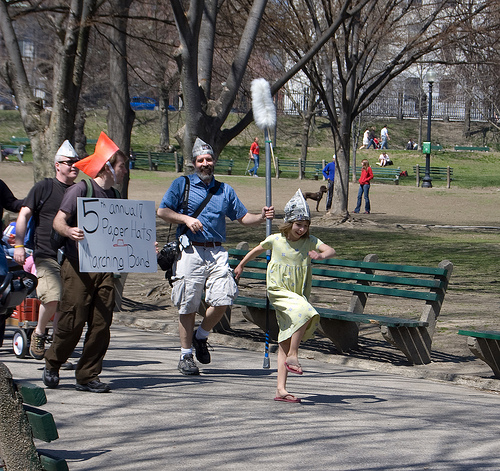 We worked our way around the entire park putting smiles on the faces of hundreds of people amused by our utter silliness. Many people took our their cameras to not only take our picture but to get their pictures taken in front of us as we marched by!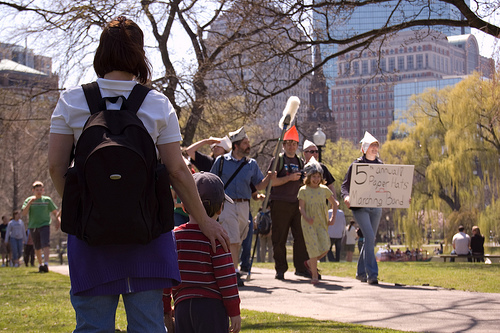 A couple 20-something girls asked if they could join- we handed them some extra paper hats and they stayed with the march till the end! A lot of other park goers briefly tagged along behind us here and there for a laugh. A little girl asked her parents why she couldn't see our instruments. SUCCESS!
Back across the street into the Common we continued our successful march passing tourists visiting historic monuments and excited children at the playground. A couple visiting from Vancouver discussed coming back to Boston in the coming years for the 6th and 7th Annual marches. What they don't know is every year will be called the "5th Annual" regardless.
Shockingly, security did not bother our little bout of fun so the march continued longer than originally expected- but the reactions were constantly the same as we continued to cover new ground and meet new laughing faces. After over 20 minutes of marching we returned to the monument where we first met.
We were just about to pack it up and leave when a man doing a picture book of Boston asked us if we could march just a bit more for his book. So we did two more loops around the monument! If you see a "picture a day" book for Boston come out next year make sure to check Day 110, Saturday, April 19th. You might just see the Boston Society of Spontaneity causing mischief on what may be one of the nicest days of 2008.